Normally when a great band goes from sometimes-active to mostly-inactive
status, it's a cause for great sadness. Not so with the case of Birds Of
Maya, though – guitarist Mike Polizze's Purling Hiss is God's gift to melodic
rock, and bassist Jason Killinger's Spacin' is the weed God smoked while
wrapping it. After some sporadic live shows, Deep Thuds made the
sweltering summer of 2012 tolerable, grooving with the spirit of the simplest
Velvet Underground and Hot Tuna licks, and resulting in an unpretentious,
captivating rock record suitable for noon or midnight. Killinger's frontwards
ball-cap merely hints at the comfortable, casual vibe that Spacin' exudes,
with just enough kraut-rock dalliances and artsy flourishes to keep the record
nerds at half-smirk while the local townies dance. Killinger doesn't do
interviews, but I got him to speak about Spacin' anyway! I sure am slick.
How long has Spacin' existed? I feel like I've seen the name around for a
few years, and the occasional show, but I think it was pretty different
from Deep Thuds…
I've made late-night songs and recordings in my basement for many years. In
December of 2010 I recorded a couple of songs that sounded good together and
called it Spacin'. I convinced Ben Leaphart and Mike Polizze (the other two-
thirds of Birds of Maya) to play some really strange live stuff for a show and
that was the first time it became a band. Some of that stuff made its way onto
Deep Thuds in sections. Most of the album and live shows are comprised of myself
attempting to play guitar and sing, Paul Sukeena playing all of the good lead
guitar playing, Sean Hamilton on bass, and Eva Killinger on drums. We've
also been a ten-piece band for a couple of shows. Spacin' is all of this.
So basically as long as it's you on guitar and vocals, it's Spacin'? Do you play
the same songs no matter if you're a three-piece or a ten-piece, or does the
lineup dictate what you'll play?
It's almost always the four-piece band, we just sometimes do it other ways or
are open to doing it in other ways. Sometimes it's the same songs, sometimes
it's much different versions of already recorded songs. We played at the
Institute of Contemporary Art here in Philadelphia last fall as a ten-piece
band, half of which was percussion. We wrote a weird afrobeat-sounding song
that we were going to play for twenty minutes, but when all was said and done,
the song went for nearly an hour. None of us realized it was happening.
Was it weird playing in an art museum? Do you think Spacin' exists in that sort
of avant-garde music continuum, or are you more of just a band geared for
backyard barbeques?
The only art world we're ever really involved in isn't far removed from the
backyard barbeques, so we're into both. We don't take ourselves too seriously.
So did the Rolling Stones really get in touch about your album cover? Were you
psyched that they somehow noticed, or was it more of a pain?
They contacted Richie Records. When Richie told me, I was indignant at the
idea that I couldn't paint a mouth and tongue on our album cover if I wanted
to. I casually attempted to convince all of my friends that this was the result
of our grotesque economic machine that pressures people to syphon words, images
and ideas away from us and convert them into their own personal profit,
indefinitely. To which they all seemed to respond "Yeah, but you painted the
Rolling Stones logo." Ha ha. So I changed it.
I know you are a graphic designer by trade… are there any other iconic rock
logos you are a big fan of? If copyright laws didn't exist, what logo would you
appropriate next?
When I was a skater kid in central Pennsylvania I used to draw punk logos
on my closet door in colored chalk for some reason. I would try to copy the
logos and typefaces of bands from advertisements in either Thrasher or
Sessions. I definitely got good at drawing the DRI guy, Dead Kennedys
logo, Misfits skull and all that. That was the first time I ever really paid
attention to graphic design. I don't think I'd ever incorporate another bands
logo into our own artwork again though. I do have a pin on my backpack that is
the universal "No Bullshit" sign. I might use that.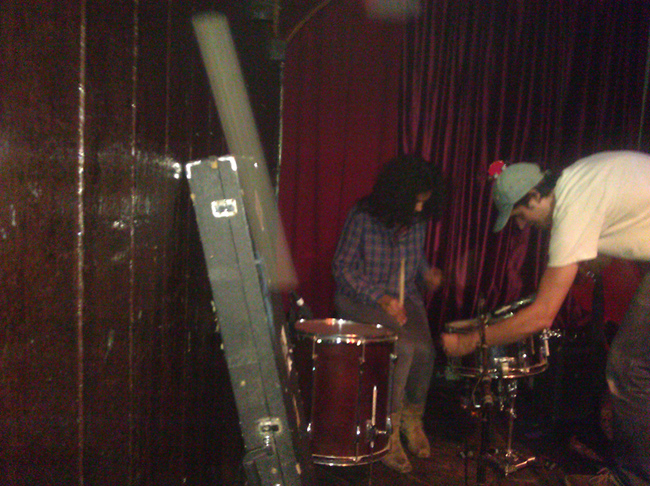 If guitars never existed, what kinda music do you think you'd be listening to?
I suppose jazz could've happened without guitar. I don't listen to much jazz
(yet) besides Pharoah Sanders or Alice Coltrane or stuff that everyone knows.
Also, a lot of Brian Eno stuff doesn't have guitar, I love Brian Eno, but I
don't think that's what you are asking. This is the most difficult question
I've ever been asked.
When did you first start playing guitar? I know you came up as a bassist…
I taught myself how to play guitar in the late '90s when I graduated high school,
but I've still never actually learned how to play chords correctly. I think I
only ever play two strings at a time. Fortunately Paul is a much better guitar
player than I am, so it makes a cool balance. Bass comes much easier to me, so
do drums.
Simplicity seems to be a key component of the Spacin' sound. Is that something
you purposely try to reign in, or is this just as complex as you can write?
There will never be a Spacin' prog-rock opus, right?
I like a lot of music that I know we can't pull off in good taste, but I
don't want Spacin' to be any one thing. I would rather it be without genre
and hard to define. I'm not saying that's what it is, but that's what I would
like it to be. Loose in every way.
Are you working on new Spacin' material? Any plans for another record?
I have tons of songs that are waiting for us to learn them as a band. We have
a lot of stuff we've done since Deep Thuds and I'm constantly recording
everything. Sean was leaving my house one day and says "We should totally
start recording for the next album" and I say "We have been". Ha ha. The next
record will happen sometime this year.