There's nothing quite like the feeling of throwing on a punk record you don't know
anything about and having it knock you on your can. That's what Constant Mongrel
did to me with Everything Goes Wrong, the sort of fully-realized debut album that
seems to come most frequently from Australia these days. Constant Mongrel are
musically crude, artistically sharp and proudly punk, forcing themselves to learn
their instruments as they go and slapping anyone who doesn't get it in the process.
I'm reminded of the quick-witted annoyance The Urinals brought to the table in 1979,
as well as the noisy, modern-day doldrums of Lamps, but Constant Mongrel are clearly
their own little creature. I had to find out more about the group for myself, so I got
in touch, and they kindly answered my questions.
When and how did Constant Mongrel get started? I believe some of you play in
other bands, but I'm not quite sure of the exact family tree…
Hugh (guitar): Well it basically started off as Tom and I mucking around in this laundry-
room / shed out the back of Tom's old house. He had just started playing drums with
another friend's solo project called Woollen Kits, which at the time was a sort of
a K Records kind of pop-style punk thing. We wanted to make a more straight-up
proto-punk band, so I learned drums as I went along, which worked well in terms of it
being retarded sloppy fun shit to play. It was all about just making songs up really
quickly before shows and keeping us and others entertained, really. After a while,
we got a bit tired of it I guess and decided add a bass player, Amy, who is a babe
and in the local pop band School of Radiant Living, as well as Andrew Murray from
a Perth band called Taco Leg who we've always championed. So yeah, eventually the
ideas changed, but we still like to make songs up on the spot. Really the only
strong relation we have is to Woollen Kits and Taco Leg, but we all play in different
bands now.
So are you are four-piece now? Did you add a second guitarist specifically for
the sound, or was it more of a casual "sure, you can come play with us" sort of thing?
Tom: Yeah, we are a four-piece now. Andrew (Taco Leg's main man) joined the band just
a few months back. We met him when we travelled to Perth (for those who don't know,
Perth is a four-hour flight away) about two years ago. We kinda hit it off from day one,
and told him if he ever wanted to play in Constant Mongrel that if he moved to Melbourne
he could. So yeah, he moved across after completing his masters in architecture over
there. Actually he sang on "In the Night" on Everything Goes Wrong, he recorded
the vocals with a friend in Perth and it all worked nicely, pretty cool we could do that.
Do all you bands on like, Bedroom Suck and R.I.P Society and Negative Guest List (and
maybe even Siltbreeze) all know each other? Living in America, I don't have any understanding
if you're all going to the same shows all the time, or if most of those labels' rosters
barely ever interact.
Tom: Yeah, we do know a lot of the bands from R.I.P Society, etc. Not really personally,
but definitely from playing shows, that sort of thing. Australia is very large and
pretty pricey to get around; every city has bands that are related to those labels. I
guess it's a pity we can't play and hang with some of them more.
Hugh: For the most part we know each other. Those labels are all in separate states/cities.
Bedroom Suck and Negative Guest List in Brisbane, R.I.P Society in Sydney, also No
Patience in Adelaide are really good. Because there are only a few states in Australia,
all the bands from these labels tour quite a bit so we get to know each other that way.
We're obviously chummy with the R.I.P guys and love catching up whenever they come down
to Melbourne. We also love playing in Sydney which we do often. Melbourne has the most
density as far as music. There are a ton of good bands, and a lot of people move from
other states to here because of that. I'd say at least two or three decent shows every
week for sure. There is definitely a strong community around the punk/hardcore crowds
and I suppose that has translated well overseas in the last couple of years. It's always
surprising talking to other people from bands about how well their record is doing in the
United States… we certainly don't expect it.
Do you find yourself getting a better reaction from the punk/hardcore crowd, or
more from the experimental / artsy types?
Tom: In terms of reaction internationally, or even nationally, we are not really sure…
In Melbourne, things are kinda divided but also connected. We have found people are
playing in bands that vary in style as opposed to staying on their side of the fence.
I do think that maybe we have been labeled as a garage / punky thing because of our
beginnings, so the people that are in that scene seem to have come along with us the
whole time, but we have found people involved with noise / experimental stuff have enjoyed
our record too. We love to play with bands like Mad Nanna but also can be put on a bill
with a grindcore band like Trench Sisters and not feel out of place, which is a great
testament to Melbourne music culture right now.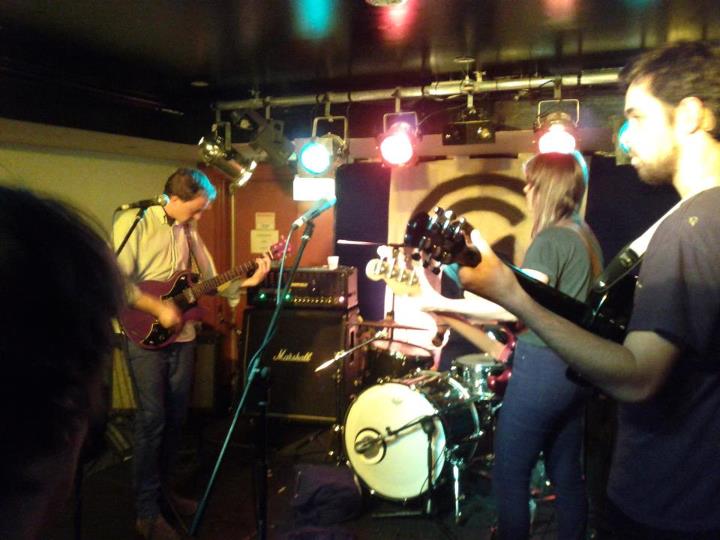 What inspired the shaving-themed artwork on the album? And why isn't the guy on the
far right shaving anything (or is he)?
Hugh: Heh! The guy on the right is me, and I think it was just the picture chosen by
my girlfriend at the time who took it. I have a beard most of the time because I
actually hate shaving, so yeah I guess there's that. The back was an idea of Tom's as
a band bonding together shot. Like the band that shaves together stays together or
something? But the front was just an idea of mine. I just always admired that particular
basin and it ended up looking quite Duchamp-esque and bleak which is cool.
Do you recall when you first heard X_X? Are you into collecting obscure records, that
sort of thing?
Hugh: I've always thought that Electric Eels are the best and most punk band there has ever
been. In obsessing over them I came across some other stuff John Morton did, and found a
copy of that No Nonsense 7″ while I was in America. That track is actually a variation
of an older Electric Eels version, but it's a much more interesting version. I'm really into
collecting records, yes. I haven't been lately because of being in a ton of debt, but yes
obscure records are great. There is actually a lot of obscure '70s and '80s Australian
post-punk and even weirder shit that turns up occasionally that is always exciting. I like
that a lot of it is getting reissued so people can hear it, like Slugfuckers, etc.
I went crazy the first time I heard the Slugfuckers… couldn't believe they existed
when and where they did! What's the last great rarity you managed to pick up?
Hugh: I do own the Slugfuckers' Transformational Salt LP which is one of my
favorites. They're an incredible band. Well, the last semi-rare record I bought was an
original VOM Live At Surf City 7″, probably the best most retarded punk 7″ ever. The guitar
sound still blows my mind. Some poor idiot was selling it way cheap on eBay. Although it's
not that rare I have the original Fad Gadget Ricky's Hand 7″ which is one of my faves. Has
to be one of the best synth-punk singles of all time. So immediate and catchy! Got some
classic early Discharge 7″s recently too!… Enough wanking now.
Tom: I recently picked up three sealed Porter Wagoner records for under twenty bucks in a
record store in the country. Maybe not that rare in the US, but very very hard to find
in Australia! But you know a record's a record… as long as you can hear the music, I'm happy.
How did you get hooked up with 80/81 Records out of California?
Hugh: Dunno, I think Matt found out about us after hearing Woollen Kits or another
Melbourne band, Mad Nanna. He just seemed really keen and was willing to risk it I
guess in putting us out which is nice of him. Things got slow in the final stages of
getting it out, but luckily Nick from R.I.P society jumped on board and helped put
the record out. Fucking legend.
Now that you've been a band for a little bit, do you feel like your actual playing
skills have increased? Is that something you expect will affect your sound, like having
already done a great first LP that is super primitive… what I'm wondering is, will
your songs get more fancy and complex?
Tom: Well, when we made this record it really all fell together while recording. I think
we had to have some on the spot creation for it to be "us" and to really work. We will
take new songs into recording and just wing it again with a general idea or palate. I
guess our playing style has changed since this record (it was a year ago we made it) with
new songs maybe leaning more toward a darker area, but that's doesn't really mean anything
in terms of a next album. More complex? Maybe, who knows. It's great cause there's no
pressure on us, I don't think many people expect anything from Constant Mongrel (not in a
bad way), so it's a great place to be in terms of creating new stuff.
Are there any future records planned at this time?
Tom: We are writing new stuff at the moment, so hopefully something will happen next
year sometime. Like I said, before we'd go in with enough material for a record and just
wing it with the style and feel of the whole thing. It has to be said we are a very poor
band at organising and pushing what we do, or even playing shows. It works for who we are
as people, but probably has an effect on our output and following. Like I said, there is
no pressure, so we actually really look forward to doing it again!
Where does the name come from? I like it, because it makes me think that there might
be a mongrel out there that is only part-time.
Tom: Well… It's a bit cringeworthy now. The name is a penis joke. A mongrel is a
half-erection (like half-breed dog). I guess like our beginning as a band, the name was very dumb.